FORMER boxing champion David Haye will spend the next year learning poker with the aim of winning the world's largest tournament outside of Las Vegas once his apprenticeship is complete.
Haye admits he does not know any rules but is being guided by three of the UK's top professional players in Jeff Kimber, Katie Swift and Joe Beevers and is to work with actors, mathematicians and psychologists to "forge his own style".
The 37-year-old former world heavyweight and unified cruiserweight champion retired from boxing in June after losing to Tony Bellew for the second time a month earlier.
Outlining his plans for the next 12 months at a press conference at the Ricoh Arena in Coventry, Haye insists he is determined not to be "embarrassed" at the 2019 Goliath event.
"I come from the boxing realm and will be going into the poker realm," Haye said.
"It's about accepting the fact that I'll be pretty poor, that every single person I'm playing with is better than I am.
"In sport if you're sometimes bigger and stronger than other people, that's enough to get you by. But I can't use my physicality to fast track me.
"It's not about how quick I am or my reflexes. It's about learning the bread and butter of poker correctly from the very beginning.
"My biggest challenge is facing that, opening my arms and saying 'help me, give me as much knowledge as you can'. I can't rush.
"Right now I don't know the rules of poker and that means I can learn the foundations from the best and move forward quickly. I'm such a novice so I have to focus on the fundamentals.
"I don't want to embarrass myself in a year's time. That's not why I'm here. I want to sit down with confidence and will enter the tournament to win.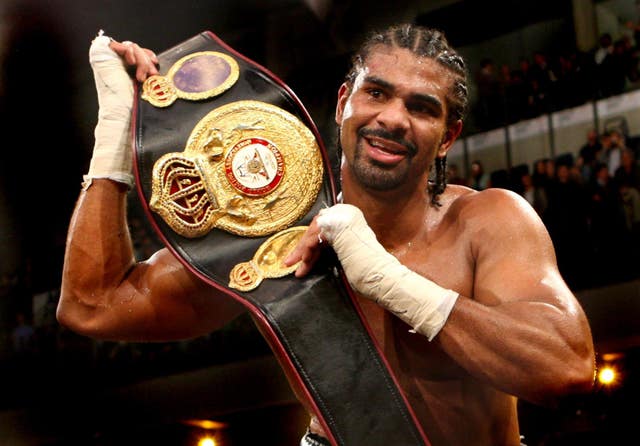 "Everyone is thinking I don't have a chance. OK, keep thinking that, but I've always found a way to overcome stuff. I will use every fibre of my being to give credibility to what I'm doing."
'Kaluki' is the only card game Haye has previously played but he is willing to give "as much as it takes" to make his poker career a success and suspects his playing approach will mimic his boxing style.
"I'm an aggressive counter-punching boxer, so not all out aggressive. I'm strategic, I wait for my spots. Nothing happens for a while and then bang, I throw a shot," he said.
"I think I'll be pretty guarded but when I see an opportunity or an opening, I'm going at it. I'm going to knock you out, take your hand.
"I thrive under pressure, I rise to pressure. Going into something cold has got the juices flowing. I'm champing at the bit for this new challenge."