TONY BELLEW was knocked out in the eighth round as his brave bid to overcome undisputed cruiserweight champion Oleksandr Usyk ended in heartbreak at a raucous Manchester Arena on Saturday.
In his final professional bout, Bellew was attempting to become the first Briton to hold all four major world titles in a weight class simultaneously.
The heavy underdog made a courageous start in an electrifying atmosphere but was denied a fairytale finish to his career as Usyk (now 16-0, 12KOs) demonstrated why he is rated among the finest fighters on the planet.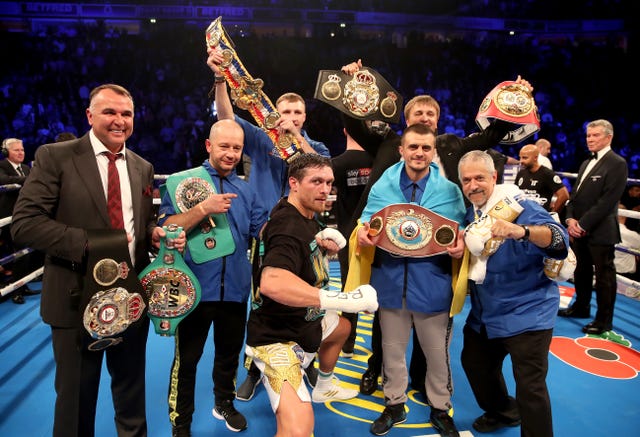 Usyk gradually started to establish his dominance and closed the show emphatically, flooring his rival with a devastating one-two, prompting referee Terry O'Connor to wave off the count after two minutes of the eighth round.
He therefore retained his WBC, WBA, IBF and WBO titles at 200lbs and may now have the heavyweight scene – and Anthony Joshua in particular – in his sights.
An emotional Bellew told BBC Radio 5 live afterwards: "I gave it everything I had, he is an exceptional champion. He is everything I have feared. He is the best I have ever fought.
"I had a great plan, I tried my best, but it wasn't good enough. He is just so hard and awkward, putting pressure, tap, tap, tap, then he stings. He overpowers you and is bigger than you think.
"He is probably the best cruiserweight who ever lived. It is him or (Evander) Holyfield – I would love to see that fight.
"Heavyweights stay away, he takes a great shot and I don't even know if I hurt him. He is even better than it says on the box.
"It is my final walk away – I have been doing this for 20 years, and now it is over."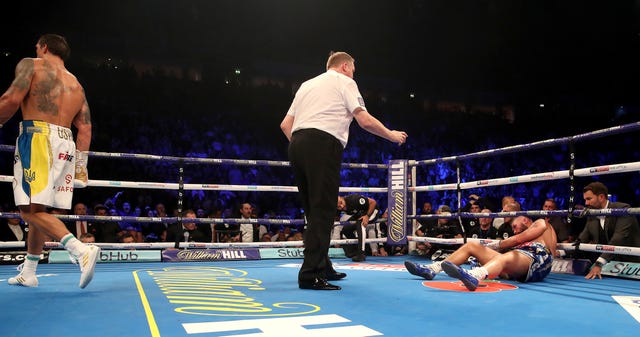 Bellew was tempted to delay his retirement plans after being called out by Usyk immediately after the Ukrainian had won the World Boxing Super Series, in the process achieving the rare feat of unifying all four major world belts.
Never one to shirk a challenge, the Liverpudlian acknowledged he would need to "shock the world" against a London 2012 gold medallist who had made significant strides in his 15-fight professional adventure.
Bellew, stepping back down to the 200lb division after taking on British rival David Haye at heavyweight in two lucrative outings, perhaps stole a cagey opening round on the back of some aggression just before the bell.
Usyk started to establish his southpaw jab at the start of the second round but Bellew proved he would not be content to simply soak up the punishment.
A couple of counter right hands brought the crowd to their feet before Bellew stood in centre ring urging his opponent to come forward, which he duly did with a couple of lead lefts in the third.
Usyk then landed his best punch of the fight in the fourth round when a short left momentarily stunned Bellew.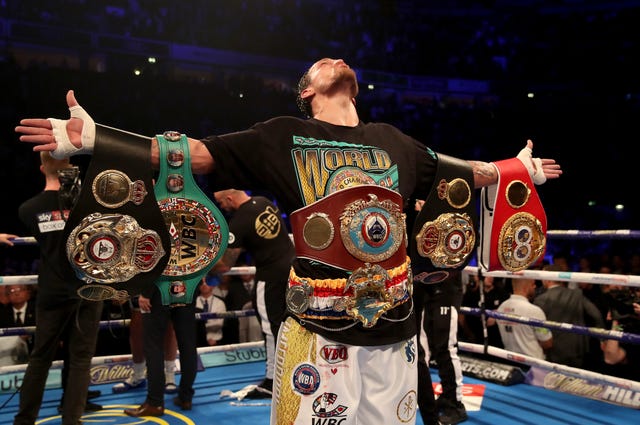 Usyk, at 31, four years Bellew's senior, gradually started to wear down his Merseyside opponent, who was saved by the bell at the end of the sixth when his legs betrayed him after another bruising left.
Bellew was starting to slow down and was visibly fatigued when the end came, with Usyk following up a sharp right jab with a punishing left hook that put Bellew on his back.
The 35-year-old, who finishes his career with a record of 30 wins, three defeats and one draw, was ahead on two of the judges' scorecards up to that point and courageously attempted to get to his feet.
But the fight was ended by O'Connor, leaving Bellew in tears after being led to his corner.
Usyk paid tribute to the early efforts of Bellew, telling Sky Sports Box Office: "I knew he would do it like that because he had nothing to lose.
"The good champions are like that with the good opposition – only this way."
As for his future and a possible move to heavyweight, Usyk added: "I had the most difficult year with my life. Now I want to rest and spend time with my family."