GEORGE GROVES could miss the World Boxing Super Series final having been taken to hospital with a suspected dislocated shoulder suffered in his victory over Chris Eubank Jr in Manchester.
WBA world champion Groves won his semi-final by beating his fellow Briton on a unanimous points decision 117-112, 116-112 and 115-113 in perhaps the finest performance of the super middleweight's career.
Though Eubank Jr battled a major cut above his eye sustained in the third round, Groves was forced to soldier on in the bout's dying stages with a serious shoulder injury that not only hampered him on the night, but could also prevent him from facing either Callum Smith or Jurgen Brahmer in a final scheduled for June.
"I haven't diagnosed it yet but it feels pretty sore," Groves said in the ring afterwards.
"I wasn't going to let anything beat me. I've boxed on with cuts, broken jaws, everything. Here, I wasn't going to let any injury get me out. It was about who wanted it most I think and I obviously wanted it most."
Groves went to hospital rather than attending the post-fight press conference, where his trainer Shane McGuigan elaborated on his fighter's problem.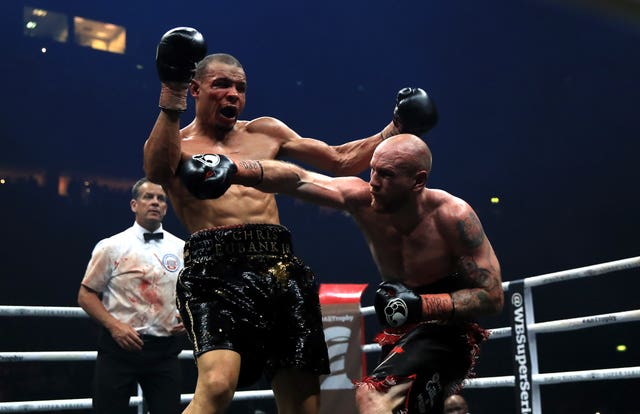 Asked if Groves' shoulder had popped out, McGuigan replied: "He said it felt like that.
"I think it was 50 seconds into the last round. There was no towel going in, when you were so far up on points…well he should have been, I thought the scorecards were far too close.
"He was always going to be able to survive that last two minutes."
On whether it could rule Groves out of the final, McGuigan added: "It's a massive concern for the tournament. George Groves' health is paramount."
Promoter Kalle Sauerland insisted he would wait for the extent of Groves' problem to be determined before deciding what would happen next, with the beaten Eubank Jr also a possible stand-in.
"We have a scope for when the tournament has to be completed; I won't go into details on that now, but we'll wait until Monday," he said.
"We're hopeful. With those sort of injuries, it can be that he can train very, very quickly again if it's just a case of it popping out. No-one knows if there's any damage until the scans have been analysed by experts.
"The way he boxed and tied him up just with the right hand and stole time was, for me, an heroic ending to the fight."
Eubank Jr had hoped this much anticipated domestic contest would elevate him out of his famous father Chris Eubank's shadow but Groves, the naturally bigger fighter, proved to be too shrewd having previously fought the likes of Carl Froch and Badou Jack.
Though it was bloody and brutal, it was not one for the purists, with Eubank Jr wildly swinging in an attempt to turn the tide.
Afterwards he bemoaned the cut he sustained from an accidental clash of heads.
"I couldn't see out of my right eye for pretty much most of the fight," Eubank Jr revealed.
"That affected my style. I had to resort to loading up because every time he would move to my right I couldn't see him. I would just throw big punches."
Eubank Jr's father offered a frank assessment of his son's performance.
"He didn't perform," Chris Eubank said.
"He's a lot better than what you saw. He was just loading up, that's the cold hard truth of it. He's a good fighter but he didn't show it."