A rematch with IBF, WBA and WBO heavyweight champion Anthony Joshua could be on the cards next year for Dillian Whyte
DILLIAN WHYTE has moved into contention for a rematch with Anthony Joshua after winning his grudge match with Dereck Chisora by devastatingly stopping his rival in the 11th round.
Two years after narrowly outpointing his opponent, Whyte demonstrated his improvement and furthered Chisora's decline by leaving him unconscious for a worryingly long time at London's 02 Arena.
He was expected to be confirmed as the next challenger to Joshua at Wembley on April 13, but potentially faces an anxious wait while the IBF, WBA and WBO heavyweight champion considers instead fighting in the US for the first time.
Whyte will regardless remain at world-level as one of the division's leading contenders and a likely future challenger to Joshua, but if he is forced to wait could struggle to maintain the impressive momentum he has built.
The way Chisora's head heavily hit the canvas after Whyte's powerful left hook landed secured the latest damaging defeat of what has already been a difficult career, meaning that at 34 and with fewer options he should consider retirement.
Similarly to their entertaining first fight, the rivals almost immediately began to fight toe-to-toe, and there were worrying early signs for Chisora, who regularly appeared hurt when they traded and struggled to have the same impact.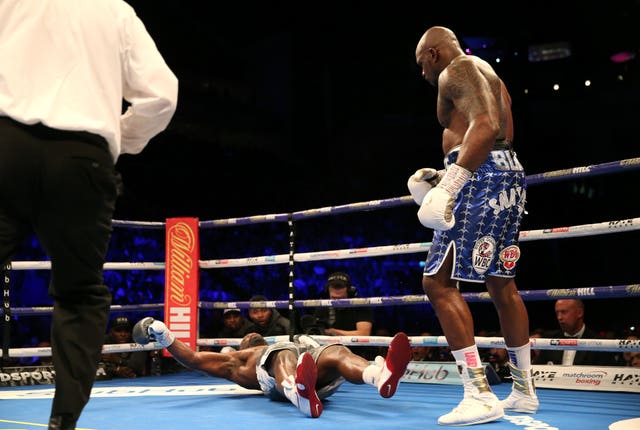 Fighting for the first time since curiously appointing David Haye as his manager and at a lighter 247lbs, the same as his opponent, he had perhaps undermined his punch resistance for a contest that was expected to be exceptionally physical.
The 30-year-old Whyte instead fought with patience and composure — perhaps with the confidence that came with occasionally seeing Chisora's knees buckle — and even if in the third he took an uppercut as Chisora built momentum, the elder of the two was fighting at an unrealistically high pace.
While Chisora continued to work harder, Whyte succeeded with a superior quality of punches to again hurt him in both the fourth and fifth. It was by the eighth when the former was beginning to build a narrow lead but then had a point deducted for a low blow, after which he started to get broken down.
His pace slowing, another point was deducted at the start of the 11th when he ignored a previous warning to land an elbow, but with that looking crucial Whyte then ensured no controversy with the heaviest of left hooks.
It was also at The 02 where Whyte left Lucas Browne in a similar condition and, with Chisora still aggressive — perhaps more reckless if the deduction meant he felt he required a knockout — and his chin uncovered Whyte threw the punch that left him unconscious before he reached the canvas.
After a worrying period he was then helped back onto his feet by his corner, but that might yet also prove his final act as a professional fighter.
Charlie Edwards earlier won the WBC flyweight title after producing his finest performance to earn a unanimous decision over Cristofer Rosales of Nicaragua.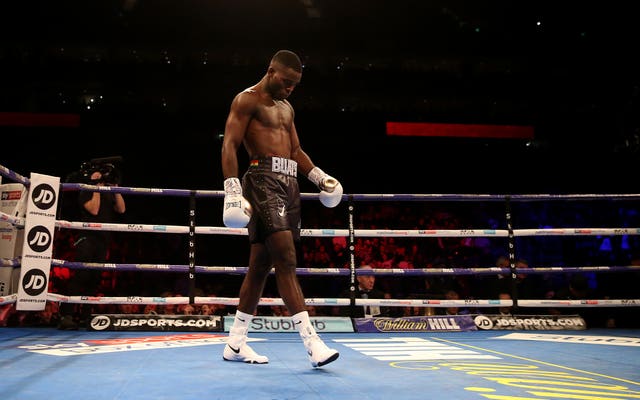 Despite being noticeably smaller than the defending champion, the 25-year-old Edwards demonstrated his superior natural talent to outbox Rosales, 24, and had to resist a heavily-bleeding cut from the seventh round to extend his lead.
The three ringside judges made him the winner via perhaps slightly generous scores of 118-110, 117-111 and 116-112.
There was also a ninth professional victory for the promising 2016 Olympian Joshua Buatsi, who won his light-heavyweight fight against Renold Quinlan via a first-round stoppage, having already hurt the Australian while punching him on the break.