Anthony Joshua and Joseph Parker are both undefeated ahead of the Cardiff bout, writes Declan Warrington
ANTHONY JOSHUA has revealed he is driven by a fear of losing and conceding his status as the world's leading fighter.
Since unifying the WBA and IBF heavyweight titles with his dramatic stoppage defeat of Wladimir Klitschko and amid Floyd Mayweather's retirement, Joshua has become perhaps the world's highest-profile fighter and inherited boxing's biggest scalp.
On Saturday at Cardiff's Principality Stadium, in front an expected 78,000-strong crowd, he fights the WBO champion Joseph Parker in a bid to win a third of the four world titles, when – despite being the significant favourite – he will be wary of his prospects.
Defeat to Parker would end Joshua's hopes of then fighting Deontay Wilder for all four world titles in what would be the most significant match-up in the world, and he also explained it was that fear that led to his perceived snub of media from New Zealand and Samoa, which Parker described as "disrespectful".
"It keeps me going," the 28-year-old said. "I don't want to lose. It's little things. People thought I walked out on the New Zealand press, but that wasn't the case.
"It was because I was there from 10.30am, until 5pm, and had to be back in the gym for 6.30pm to train, and I had to eat. It wouldn't have mattered if it was African press, the Chinese press, or the New Zealand press, I just told my team 'Can I make a move now because I have to be back in an hour and a half? Do they mind waiting?'
"But they didn't want to wait, and with all due respect, I have to focus on my training.
"The fear of losing: unless I take care of my business, no one's going to want to interview me anyway, so I have to make sure I stay focused on the job at hand. That's the fear of losing: it keeps me motivated; I just know how quickly the tables can turn. One minute you're the man, and the next you're not."
Like Joshua, the 26-year-old Parker is a young, fresh, undefeated fighter, and he attempted to get under his rival's skin by insisting he is yet to decide how he will attempt to win Saturday's fight.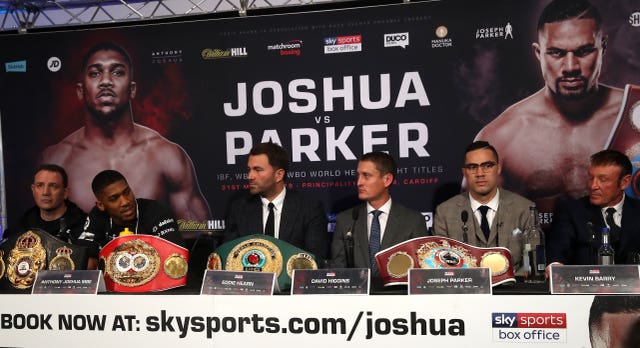 In September he travelled to Manchester and outpointed the previously-undefeated Hughie Fury, and he said: "I'm going to beat him. I haven't even decided how I'm going to beat him yet. I'll see how I feel on fight night.
"This is the best time. He's at his best; I'm at my best. There's going to be no excuses: whoever wins will be the best man on the day. These (belts) are mine."